IPS® Retrofit: Discover the Simple, Effective Solution for Chiller Plant Energy Efficiency
Your primary/secondary system is probably not operating at optimal efficiency, but the IPS® retrofit from tekWorx can be the solution to maximize efficiency while minimizing disruption.
Did you know that if your chiller plant features a primary/secondary (P/S) design, you are likely not operating at maximum efficiency?
With the introduction of variable speed drives in the 1970s, the P/S design was created to take advantage of the newfound ability to modulate flow with load and the added flexibility for chiller staging. At the same time, the system met the requirement for constant evaporator flow.
Quickly becoming the standard, the primary/secondary design continued to be used in new plant construction, even after microprocessor chiller controls unlocked previously unreachable efficiency gains in the 1990s. The main shortcoming of the P/S layout is that its cooling strategy is solely focused on the hottest day of year, creating inadequate energy efficiency for the remaining 364.
P/S bypass blending represents one of the biggest energy efficiency drawbacks of the P/S system because:
Chilled water not used by the load flows through the bypass and blends with warm return water

Blending decreases the temperature of the return water into the chiller, thereby lowering ΔT

Chillers must work much harder than necessary to maintain the designated temperature setpoint
Find the simple, effective solution
Fortunately, these existing systems do not need to remain inefficient thanks to the tekWorx Integrated Primary/Secondary (IPS®) retrofit design. The IPS® retrofit requires only minor mechanical and control system modifications, a short installation time and minimal system disruption. The result? Major energy savings and utility rebates.
Key aspects of the IPS® retrofit include:
Minimizing bypass flow and associated return water blending that degrades system ΔT either by insertion of bypass valve or by controlling loop flow

Adding variable speed controls for pumps, fans and chillers, as needed

Adding new instruments to measure process variables affecting operation and efficiency (usually flow and kW) as needed

Using adaptive control algorithms for continuous online equipment adjustment
How the IPS®
 retrofit design provides maximum energy savings
tekWorx offers a unique blend of Approachable Expertise,® increasing operational efficiency and reducing energy costs while designing pragmatic solutions to meet unique client needs. As a result, the IPS® can be implemented in one of two ways:
1. The most common application of the IPS® is via the addition of a valve that eliminates bypass flow and improves system control.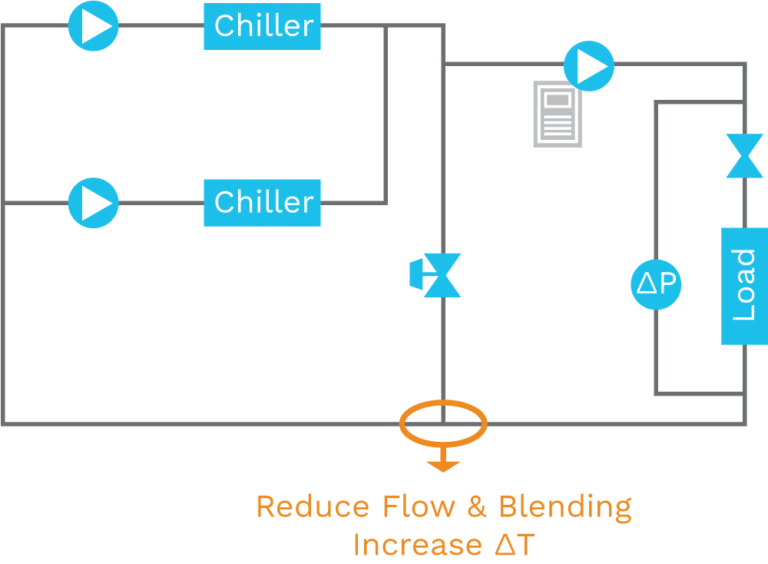 2. In instances where inserting a bypass valve is not an option – because it requires plant shutdown or other circumstances make this modification impractical – there is an alternative. Instead, tekWorx matches the primary and secondary loop flow to minimize bypass flow
For more information
To see how tekWorx utilized an IPS® retrofit to reduce cooling costs by 28% at Chrysler's North American headquarters, read our case study. Then contact us to discuss how our IPS® retrofit design can save money and earn utility rebates for your company.
Follow us on LinkedIn for the most up-to-date news and events.
We are the chilled water plant optimization experts
tekWorx optimization solutions consistently save faciliites 20-40% in annual energy costs. We'd love to help your facility do the same. Get in touch!
© 2020 tekWorx. All right reserved. Privacy Policy