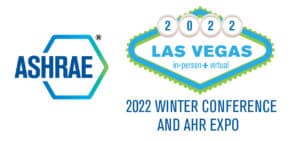 tekWorx chilled water plant optimization project at Stellantis' Sterling Heights Assembly Plant was recently awarded first place worldwide in the existing industrial facilities or processes category at ASHRAE's 2021-22 Technology Awards. The award winners were announced January 29th, 2022 at the ASHRAE annual convention in Las Vegas, Nevada
In 2016, after being purchased by FCA, it was announced the auto giant would invest $1.48 billion to again retool the Sterling Heights Assembly Plant (SHAP) site to build the next generation Ram 1500 and support the future growth of the Ram brand. The overhaul included an upgrade of the South paint shop and its Energy Center which houses chillers, hot water generators, pumps, purified water equipment, non-potable water supplies and associated equipment.
tekWorx blue ribbon was presented for the Xpress® control and optimization solution that optimizes the chilled water equipment at the SHAP South Energy Center. tekWorx Xpress® optimization algorithms continuously adjust equipment sequences and key setpoints based on parameters related to process requirements and outdoor air temperature. This ensures maximum system efficiency in real‐time while maintaining cooling requirements at the lowest total kW per ton.
Xpress®, combined with the energy impact of YORK® YMC² magnetic-bearing chillers, has resulted in an average annual total system efficiency of 0.42 kW/ton over the last three years. Xpress® optimization mode saves the Energy Center nearly 3,000,000 kWh annually and reduces yearly energy expenses by approximately $175,000.
The ASHRAE Technology awards are an international competition that recognize outstanding achievement in the design and operation of energy efficient buildings. Winning projects incorporate ASHRAE standards for effective energy management and indoor air quality and serve to communicate innovative systems design.
Visit this link for more information on the ASHRAE Technology Award and this year's list of winners. The SHAP optimization project will be featured in ASHRAE Journal's August issue.