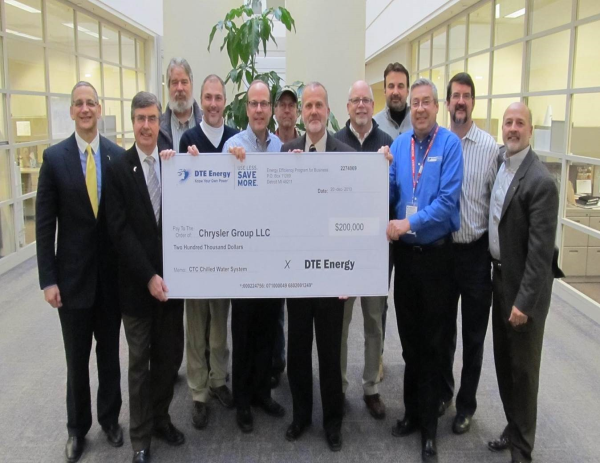 In January, the Chrysler Technical Center Facilities Group received a $200,000 DTE Energy rebate check for reducing their central energy plants annual energy costs by approximately $1 million! The DTE "Energy Efficiency Program for Business" incentive provides rebates to DTE Energy's electric commercial customers for retrofitting facilities with more energy-efficient equipment for HVAC systems or control operations. These customer incentives are rewarded to customers based on the first year of energy savings in kWh with $200,000 being the maximum rebate given out.
The Chrysler Technical Center is one of the largest facilities under one roof in the world and, at a staggering 17,000 tons, also holds one of the largest chilled water systems. The Chilled Water System Optimization Project's primary objective was simple: reduce the annual 49 million kWh and the associated $3.9 million price tag while automating the previously manual system. A reduction of 12 million kWh/year in cooling hours, or roughly $1 million per year, was achieved utilizing a variable flow strategy that entailed the integration of modern PLCs, VFDs, a variety of DP sensors, water pump impeller trimming, and a proprietary control algorithm developed by tekWorx.
Congratulations to the CTC facilities group on their incredible achievement! For more information regarding tekWorx chiller plant optimization capabilities, check out Our Approach.