You sometimes meet people and immediately understand their impact will be felt far and wide for years to come.
Our co-founder Burt Rishel was one of those people. He made his mark in design,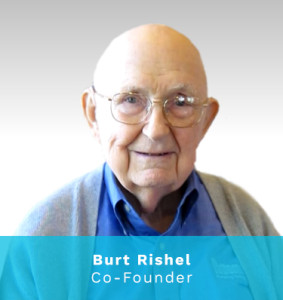 engineering and writing while influencing those around him with his intelligence, heart and dedication.
A gifted engineer and a captain of the Army Air Corps, his first major achievement was as a principal designer for the CG-10A glider, which became the first Assault Cargo aircraft. Then he found his true professional love – pumping systems –
which earned him the nickname Professor Pump.
Professor Pump first founded Systecon, and then helped launch tekWorx in 2000. He loved designing pumping systems and helping companies operate more efficiently. His work took him across the country, serving as a consultant for the chilled water systems at the Denver International Airport, the National Institute of Standards and Technology and the National Institutes of Health.
A prolific writer of technical articles, he also wrote two influential books: "HVAC Pump Handbook" and "Water Pumps and Pumping Systems."
"At tekWorx, we are indebted to our co-founder, friend and inspiration. His knowledge made us a pioneer in the field. His mentorship molded us. His customer-first focus motivated us," says Managing Partner Mike Flaherty.
Burt passed away in August 2013, leaving a legacy that all of us at tekWorx strive to live up to every day.
For more information about tekWorx
Discover the next generation of Professor Pumps. Contact tekWorx today with your energy-saving questions and see how we can partner together to achieve an effective chiller plant optimization solution. Plus, follow us on Facebook, Twitter and LinkedIn for our most up-to-date news and events.