When hearing the phrase energy audit, do you automatically think a) we did that years ago, or b) it's not in the budget for this year?
Consider what it would mean for your corporate bottom line if a free energy audit reported that your company could realize an annual savings of 10-50 percent in energy costs? Well-prepared energy audits reveal a range of solutions, while requiring only a minimal investment of corporate time.
The tekWorx energy audit process
At tekWorx, our engineers start the no-risk audit process by performing an onsite evaluation – inspecting the chilled water system piping, equipment and controls, viewing design plans and talking to operators. In addition, the tekWorx team reviews plant chiller logs and bin data to help acquire an overall energy-efficiency baseline.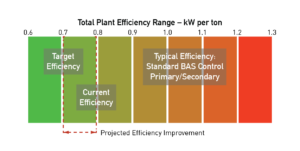 Following the information-gathering phase, tekWorx engineers will provide a chilled water (CHW) system performance assessment for your unique plant detailing:
How the current CHW system consumes energy, along with a comparison to industry best-practice targets
Short, medium and long-term Energy Conservation Measures (ECMs)
Adaptive control strategies for minimizing plant kW/ton
Projected investment for savings and a payback target
Applicable energy rebates and associated calculations
tekWorx delivers our customers a unique blend of Approachable Expertise®, increasing operational efficiency and reducing energy costs while designing pragmatic solutions to meet their unique needs. As part of the recommended solution, our team seeks to improve energy efficiency by maximizing current equipment instead of making additional capital expenditures.
For more information
To see how tekWorx turns energy audits into real-world results, read our online case studies. Then fill out our Chiller Plant Evaluation Form or contact us to initiate the free, comprehensive audit process.
Follow us on LinkedIn for the most up-to-date news and events.