2017 is shaping up to be a volatile year in electrical prices.
The U.S. Energy Information Administration (EIA) is predicting higher prices for electricity, driven by higher than expected natural gas prices. Natural gas prices could soar because of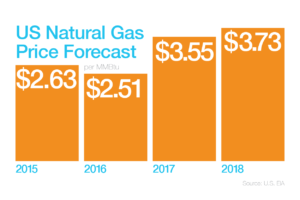 rising exports to
Mexico and production that's predicted to fall for the first time since 2005.
Natural gas generates more electricity in the United States than other fuel sources, making it a key driver in pricing. Other significant factors that could affect the variability of natural gas prices include:
Natural gas supply realignment – reserves fell below five-year averages at the end of 2016 after being near all-time highs through most of the year
Changing weather predictions – lower heating demand could check natural gas price recovery in the short term
How you can save on energy costs
With surging prices, it's now even more crucial to find energy savings where you can. At tekWorx, we provide energy-saving solutions – for any size plant, any mechanical configuration and any control system.
In fact, our proven optimization solutions can cut energy costs up to 50%. Learn more about our larger chiller optimization or our smaller chiller optimization solutions and put the Approachable Expertise® of tekWorx to work for you.
For more information
Contact us with your energy-saving questions and see how we can partner together to achieve a comprehensive chiller plant optimization solution. Plus, follow us on Facebook, Twitter and LinkedIn  for our most up-to-date news and events.